Latest topics
»
Forumactif Edge - Releases
by
Ange Tuteur
Tue 03 Sep 2019, 11:49
»
GIFActif - Giphy Button for the Editor
by
Ange Tuteur
Wed 08 May 2019, 17:21
»
Forum Closure
by
Ange Tuteur
Mon 01 Jan 2018, 01:28
»
Chit Chat Thread
by
Valoish
Sun 31 Dec 2017, 19:15
»
Font/Text background color.
by
Valoish
Sun 31 Dec 2017, 19:11
»
Forumactif Messenger - Instant Message Application for Forumotion
by
Wolfuryo
Sun 31 Dec 2017, 18:24
»
[GAME] Count to One Million!
by brandon_g Fri 29 Dec 2017, 18:58
»
Post Cards
by manikbiradar Wed 20 Dec 2017, 07:50
»
[GAME] Countdown from 200,000
by
Valoish
Wed 13 Dec 2017, 23:22
»
GeekPolice Tech Support Forums - GeekPolice.net
by Dr Jay Mon 11 Dec 2017, 19:12
»
Asking about some plugin for Forumotion
by Dr Jay Mon 11 Dec 2017, 19:10
»
[GAME] What are you thinking right now?
by
Van-Helsing
Sat 09 Dec 2017, 14:51
»
Widget : Similar topics
by ranbac Wed 06 Dec 2017, 18:11
»
Change the Background of the Forum and put an image and how to make prefixs?
by Clement Wed 06 Dec 2017, 15:19
»
Hello from Western Australia
by
SarkZKalie
Wed 06 Dec 2017, 05:34
Top posting users this month
Who is online?
In total there are 17 users online :: 0 Registered, 0 Hidden and 17 Guests :: 1 Bot

None


Most users ever online was 515 on Tue 14 Sep 2021, 15:24
Guest

Guest

Would be a nice addition to show the groupmembers in a list when hovering over the groups in the legend the in the same style as the
https://fmdesign.forumotion.com/t404-display-a-preview-of-the-user-profile-on-hover
@Samantha
thanks, that's another good suggestion. I'll put it in my notes for stuff to work on when I'm feeling creative.
SLGray wrote:I guess this is a good idea, but what will happen if there are many members (1,000 or more) in the group?
I'll definitely add a limiter for this, so the admin can choose to show a preview of N members. I think either 5-10 people is a good range for a preview.
Heeeey,
Been awhile, but I got a prototype up and running pretty good so far. I decided to use tooltipster for this instead.
Here's how it looks currently :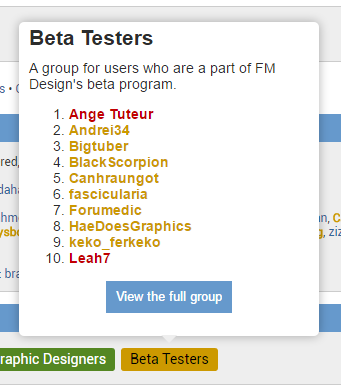 Got a few more things to work on before testing this though.
Create an account or log in to leave a reply
You need to be a member in order to leave a reply.
Log in
Already have an account? No problem, log in here.
Log in
---
Permissions in this forum:
You
cannot
reply to topics in this forum