Latest topics
»
Forumactif Edge - Releases
by
Ange Tuteur
Tue 03 Sep 2019, 11:49
»
GIFActif - Giphy Button for the Editor
by
Ange Tuteur
Wed 08 May 2019, 17:21
»
Forum Closure
by
Ange Tuteur
Mon 01 Jan 2018, 01:28
»
Chit Chat Thread
by
Valoish
Sun 31 Dec 2017, 19:15
»
Font/Text background color.
by
Valoish
Sun 31 Dec 2017, 19:11
»
Forumactif Messenger - Instant Message Application for Forumotion
by
Wolfuryo
Sun 31 Dec 2017, 18:24
»
[GAME] Count to One Million!
by
brandon_g
Fri 29 Dec 2017, 18:58
»
Post Cards
by
manikbiradar
Wed 20 Dec 2017, 07:50
»
[GAME] Countdown from 200,000
by
Valoish
Wed 13 Dec 2017, 23:22
»
GeekPolice Tech Support Forums - GeekPolice.net
by
Dr Jay
Mon 11 Dec 2017, 19:12
»
Asking about some plugin for Forumotion
by
Dr Jay
Mon 11 Dec 2017, 19:10
»
[GAME] What are you thinking right now?
by
Van-Helsing
Sat 09 Dec 2017, 14:51
»
Widget : Similar topics
by
ranbac
Wed 06 Dec 2017, 18:11
»
Change the Background of the Forum and put an image and how to make prefixs?
by
Clement
Wed 06 Dec 2017, 15:19
»
Hello from Western Australia
by
SarkZKalie
Wed 06 Dec 2017, 05:34
Top posting users this month
Who is online?
In total there are 9 users online :: 0 Registered, 0 Hidden and 9 Guests

None


Most users ever online was 172 on Fri 19 Feb 2016, 05:17
Hi !
I'd like to let all of you know that I've updated the "Browser" and "Forum Version" profile fields. I mostly changed the images for the browser field, so you don't have to worry about that. However, the main reason I'm posting this is because I had to create a new profile field for the forum versions since I switched them over to images, so you'll have to fill in your forum version again. At the moment everyone should be on "Other," except me cause I already changed mine.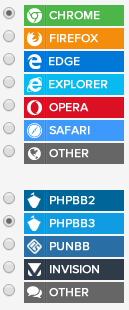 Anyway, feel free to choose your forum version again whenever, there's no rush.

Sorry for this inconvenience, but I hope you like the change !

@BlackScorpion

wrote:You forgot to include Brave Browser, since you included Safari and Opera
You're right ! I'm gonna have to add that in.
Small
update
; I've added the following options to the browser and forum version profile fields.
Browser
Forum Version
What's Brave?

@JerriLeah7

wrote:What's Brave?
It's a new browser that's being developed which automatically blocks ads and trackers, and if enabled to do so, replaces those ads with ads approved by Brave. Generally speaking, this browser is trying to redo how advertising is done on the internet, while also providing a safer and faster browsing experience, plus ways to support your favorite websites through
payments
.
You can find more info on their website.
https://brave.com/
Create an account or log in to leave a reply
You need to be a member in order to leave a reply.
Log in
Already have an account? No problem, log in here.
Log in
---
Permissions in this forum:
You
cannot
reply to topics in this forum