Latest topics
»
Forumactif Edge - Releases
by
Ange Tuteur
Tue 03 Sep 2019, 11:49
»
GIFActif - Giphy Button for the Editor
by
Ange Tuteur
Wed 08 May 2019, 17:21
»
Forum Closure
by
Ange Tuteur
Mon 01 Jan 2018, 01:28
»
Chit Chat Thread
by
Valoish
Sun 31 Dec 2017, 19:15
»
Font/Text background color.
by
Valoish
Sun 31 Dec 2017, 19:11
»
Forumactif Messenger - Instant Message Application for Forumotion
by
Wolfuryo
Sun 31 Dec 2017, 18:24
»
[GAME] Count to One Million!
by
brandon_g
Fri 29 Dec 2017, 18:58
»
Post Cards
by
manikbiradar
Wed 20 Dec 2017, 07:50
»
[GAME] Countdown from 200,000
by
Valoish
Wed 13 Dec 2017, 23:22
»
GeekPolice Tech Support Forums - GeekPolice.net
by
Dr Jay
Mon 11 Dec 2017, 19:12
»
Asking about some plugin for Forumotion
by
Dr Jay
Mon 11 Dec 2017, 19:10
»
[GAME] What are you thinking right now?
by
Van-Helsing
Sat 09 Dec 2017, 14:51
»
Widget : Similar topics
by
ranbac
Wed 06 Dec 2017, 18:11
»
Change the Background of the Forum and put an image and how to make prefixs?
by
Clement
Wed 06 Dec 2017, 15:19
»
Hello from Western Australia
by
SarkZKalie
Wed 06 Dec 2017, 05:34
Top posting users this month
Who is online?
In total there are 5 users online :: 0 Registered, 0 Hidden and 5 Guests :: 1 Bot

None


Most users ever online was 172 on Fri 19 Feb 2016, 05:17
These are the current updates to the forum as of August 15th 2013.
•
Toolbar Style
The toolbar style has been pretty much finished for now. I recolored the menu and notifications background, added a box shadow, background image to the menulist, and repositioned the usermenu a bit with a border to the right for separation. The style is not permanent, but will suffice for now since I am not very good with designs.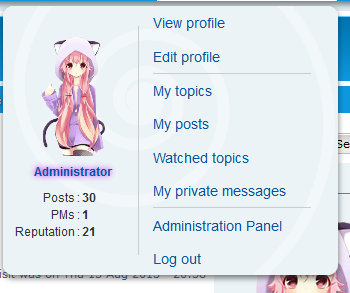 •
Index Legends
The index legend images margin has been increased so that the text and images do not touch like they were.
•
Code Title Text
The code title text has been fixed from 'Uppercase' to 'none' so that the text displays as is. (I got tired of the code tags yelling at me)

•
Describe Yourself Field
I added in a silly little field where you can describe yourself in anyway you'd like, up to 30 characters it can be increased if suggested. It can be located in your profile and will display on messages, its pretty much a 'self-given-title' for you to have fun with and be silly.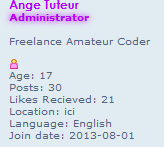 That is all the changes to the forum for now. Feedback is welcome on updates, dunno why I'm saying this guess I'm used to it. >.<
I knew I forgot something! Thanks moi!

Create an account or log in to leave a reply
You need to be a member in order to leave a reply.
Log in
Already have an account? No problem, log in here.
Log in
---
Permissions in this forum:
You
cannot
reply to topics in this forum